After waking up just northeast of Flagstaff, I headed off once again.
I detoured into the
Sunset Crater Volcano National Monument
area for a half hour or so to have a quick look around and a couple of photos before going back out to the highway to resume. I retraced a little bit of my route, as I'd left the area via US 89, but turned to the northeast towards the Four Corners area on highway 160 instead of continuing north from where I'd originally come from. I did drive by the Four Corners monument area, but didn't stop... instead choosing to make my way into the San Juan mountains in Colorado.
I'd read earlier that morning of
Last Dollar Road
- an unpaved gravel/dirt through route between Telluride and Ridgway, Colorado... a seemingly easy road, based on the description... so long as it was dry. The entrance to the road/trail wasn't very far from Telluride, and even closer still to the highway I was on. I decided I'd give it a try - worse case, I'd turn around and make a trip into Telluride for a look around. I'd gotten on the road, and it was pretty easy going. It climbed into the mountains and provided for fantastic panoramic views. The Jeep handled the climbing and the small rocky obstacles with ease, and I figured I'd make it through to the other side with in a few hours. Until I came upon a suspicious mud hole. It was far larger than the few I'd encountered before it. Unsure of the terrain under the water surface (as I couldn't see through the murky water), I inched towards the hole... enough to let my right front tire drop in... and enough to NOT like what it felt like. It felt like it would be deep. And I couldn't be sure what kind of rocky or rough goodness lived at the bottom. All of this, and still being without under-body armor and recovery points on the Jeep... I'd played it safe. I backed out slowly, turned around, and went back the way I came. I couldn't chance getting stuck with no easy way out... and being so far from home. I played that game last fall, and lost.
Frustrated, I headed into Telluride. I drove through the touristy downtown area. And out the other end. I'd had another idea earlier that morning, and had decided to act on it. Back in 2009, Aaron and I joined some other Jeep folk from across the country and spent a week on trails in these very same mountains. One of these trails, the notorious
Black Bear Pass
, empties out on this side of the mountains and heads down into Telluride. For the most part, Black Bear Pass is a one-way route that begins on the Ouray, Colorado side of the mountain. For a few of reasons, there is no way I would have attempted the whole of Black Bear - again, the lack of armor and recovery points, the lack of someone else with me, and because the pass wasn't actually open yet (due to snow). BUT, the back side/Telluride side of the pass... the part that allowed travel both up and down the mountain... that was open, and I remember that it wasn't overly difficult... at the time. So I headed up that trail, which would eventually end at the Bridal Veils Power Station, over half way up the mountain.
Image borrowed via Google: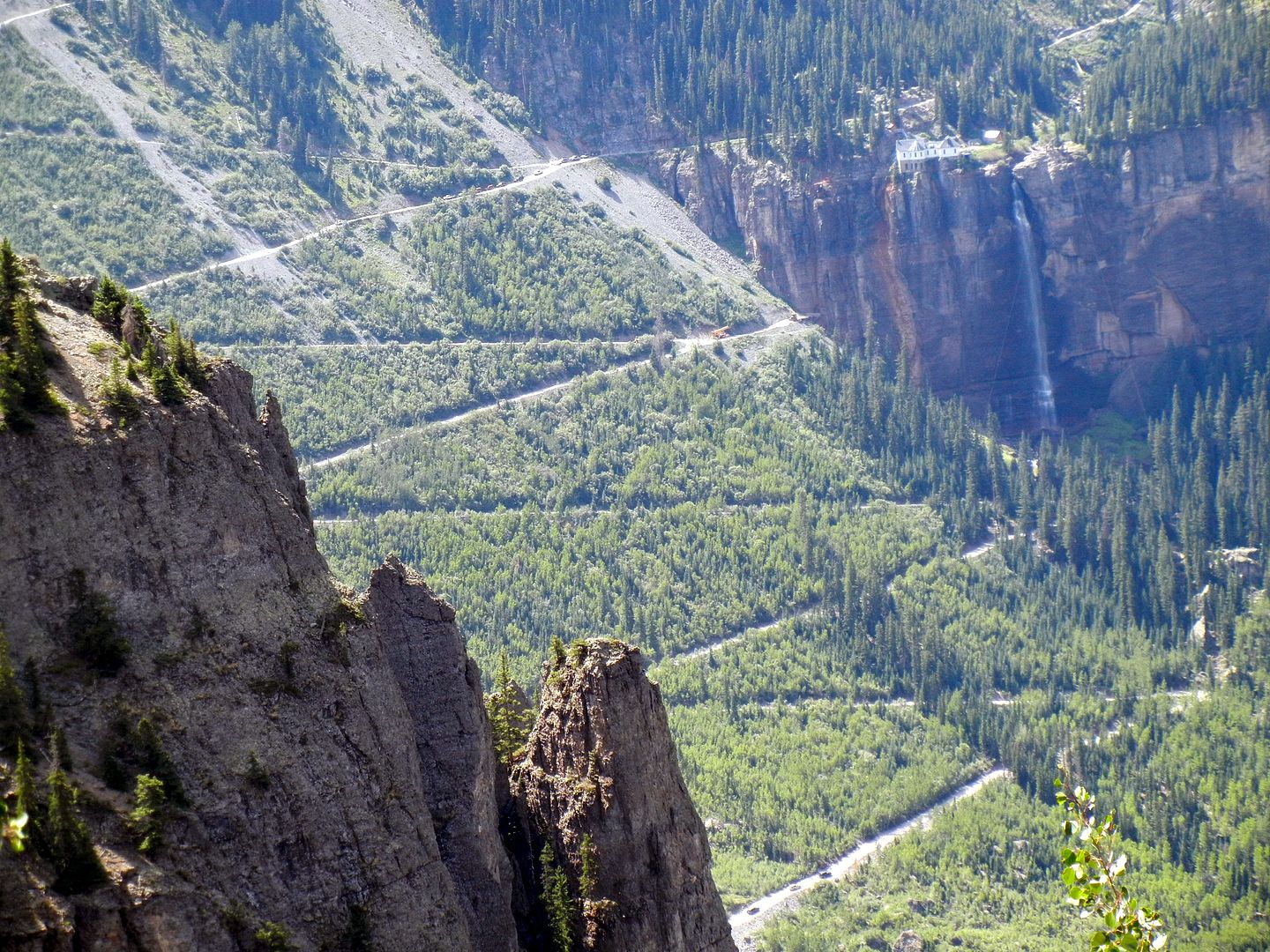 Two-way travel is from the bottom of the mountain up to the power plant in the upper right side of the frame, where it then becomes one-way only. **not my image**



I had no issues navigating the trail... outside of some interesting pull-offs to let other cars pass from the other direction. I managed some water crossings also without issue. I made it up to the power station at the top of the two-way traffic area - where there was still snow on the ground in places. From there, I took in the scenery for awhile before turning around to head back down the mountain. My disappointment from Last Dollar Road was gone after being able to complete the back side of Black Bear without issue. I'd be willing to guess that with armor, recovery points, and a bit of a lift, and some friends to spot me, I could probably handle the whole of the the trail... you know, depending on it's current condition. I did get the handful of 'odd' looks as I was driving up the mountain... at first I thought it was because I was in a Patriot... but then I probably realized it was the Illinois plates. They probably thought I got lost going to Walmart. 😁




Back down into town, I'd stopped for fuel and a snack at the gas station before continuing on for the day. At that point, I didn't have any other trails that I'd planned to try... so I thought I'd just enjoy the cruise on the mountain roads. The paved route towards Ridgway wasn't as direct as the Last Dollar route would have been - it was more of an out west, and back east route. It was mid/late afternoon, and I was on the back east portion... when I found the sign signifying the other end of Last Dollar Road. I initially passed it... but couldn't just leave it alone. I couldn't. I turned around, and went back to that entrance... deciding to see how far I could drive on this segment before I got turned around by... something.




This side of Last Dollar Road started out much like the other side - gravel, rural terrain... not technical. As I passed that and got further up into the mountains, I was again greeted with spectacular vistas. The terrain got rougher - washed out in some area due to water/snow runoff, rocky in other areas, and overall nothing difficult. I drove this for quite a long time... but, eventually I was again stopped by a rather large mud hole. I stopped. I got out of the Jeep to have a look at it.... and came to realize... it was the SAME hole from earlier, only from the other direction. 😶 So here I was... I'd technically driven the entire route... save for maybe 15-20 feet because of some crazy water hole. I don't know if I was more annoyed or more amused at the time. Now, it's definitely more amused. Once again, I was forced to turn around and go back. But I'm saying I've driven the whole thing - that's my story and I'm sticking to it. 😀




By the time I arrived back at the paved surfaces, it was late in the afternoon, and I was beginning to lose some daylight. I kept to the road until it started to get dark, and ended up stopping in Gunnison, Colorado for the evening. I also stopped here to sleep last year when I was on my way to Costa Mesa, CA. It's funny how I'm coming across the same things on the way back from this trip that I found on my way out last trip.







Mobile photos from the day: